Writing and Editing
Now the fun starts – the writing. I was advised when I started out to just get everything down. Don't worry about it at this stage. If you write 2500 words a day which is achievable, you could have the first draft of a novel ready in a month! Sometimes I write straight to the laptop, other times I do longhand first. It depends what mood I'm in and where I am. There are pros and cons to both methods. Obviously, using the laptop is quicker and you can move sentences around easily. If writing longhand, you can spot mistakes straight away.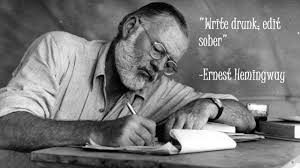 For me, the writing is the easy part. It is the editing that takes up most of my time and I find it very labour intensive. Every writer is different, but I like to do at least eight full edits myself. The areas I look at are:-
Obvious errors in writing style – such as telling rather than showing.
Consistency – e.g. making sure someone's partner keeps the same name and features all the way through.
Continuance – making sure scenes link together.
Description – Ensuring the reader can picture each scene and each main character.
Characterisation – checking that all main characters have kept the same characteristics and developed their relationships throughout the novel.
Dialogue – keeping specific voices for each main character as well as looking at how much dialogue there is as a percentage of the whole story.
Tension/Pacing – Ensuring that there are cliffhangers and uncertainty present. Look at sentence length, i.e short when tension and longer when homing in on something. Check how the conflict scenes are working.
Reread the manuscript out loud. Check that the story is moving forward at all stages.
As well as checking for these specifics, I will also be looking at sentence structure, spelling, punctuation and grammar. After this, I also use a number of tools to do a more in-depth edit online.

I use three software programmes for this –
After I am happy with the results from these, I then send my manuscript off to be professionally edited and surprise, surprise, my editor always finds mistakes.
There are three types of edits:- development edit where the editor looks at the bigger picture and the general story plot, anything that may have been left out, needs removing or is not working.
copy edit, this is like a human spellcheck with extras, such as pointing out incorrect use of italics
and proofread which focusses on ensuring there are no mistakes left and the document is formatted properly.
When I get my manuscript back, I put in the recommended changes and do a final read, then it's ready to be let loose on the poor unsuspecting public.