Dotty Digs Deep
Book 7 in the Dotty Drinkwater Mystery Series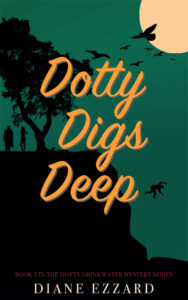 People are dying at the care home but are the deaths natural or is a serial killer on the loose?
Dotty's grandma, Grace is persuaded to move into Willowbank Lodge retirement home when her memory and her physical condition worsen. Then her new friend, Tomas disappears and is found dead. When other deaths occur, Dotty and her friend Dave, the gay private investigator, wonder if there is something more sinister afoot. Dotty and Dave dig deep to uncover the truth.
What really happened to Tomas? Is Willowbank Lodge a dangerous place to live?
Dotty finds out more than she bargains for when she unravels the past lives of the staff and residents.
This is book 7 in the Dotty Drinkwater Mystery series but can be read as a standalone.
What other readers are saying –
"Another fun mystery you will just love."
"Great addition to this series."
"Fantastic book — grab it and enjoy."
Just right for fans of authors like Lee Straus, CeeCee James or Liz Howell.
Grab your copy now of this action-packed cozy mystery full of twists and turns and laugh out loud moments.   
Available through Amazon –  https://mybook.to/dotdigdeep