Dotty Drinkwater Mystery Book 3
Who is the mystery man trampled to death by cattle down at the farm?
Was it an accident or something more sinister?
Dotty and her friends stumble upon strange goings-on and can't help but get involved. They get suspicious when they hear dogs barking and after the death of a puppy, start to investigate farmer Ned's business dealings. Things are about to get a whole lot worse for Dotty.
Read all about her escapades and laugh out loud with her bumbling adventures in this cozy mystery. Dotty Dabbles in Danger is the third in the series but can be read as a standalone.
Check it out if you love books similar to Janet Evanovich and Faith Martin.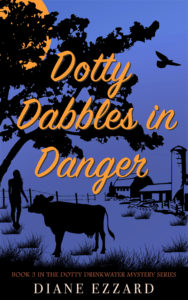 Available through Amazon as an ebook or paperback. Grab your copy here  mybook.to/dab