DOTTY DISHES THE DIRT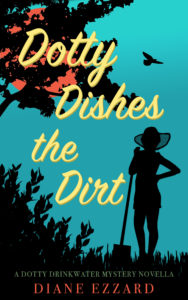 Discover this new series of murder and mayhem.
This charming cozy mystery will leave you scratching your head with its twists and turns.
Be enthralled by Dotty and her friends' laugh out loud adventures.
Out of work Dotty starts up a gardening business. She unearths more than she bargains for in the shape of human bones.
Who is the body in the garden?
Can Dotty and her friends get to the bottom of the mystery?
Together, they expose secrets and lies that rock the close-knit community.
Everyone's peace is about to be shattered.
This is the prequel to the Dotty Drinkwater Mystery Series.
Available through Amazon and other leading suppliers.
Amazon link – mybook.to/dottypre