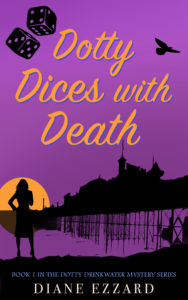 Dotty Dices with Death is Book 1 in the Dotty Drinkwater Mystery Series – a cozy mystery full of laugh out loud moments and crazy capers.
"Suspicious death of local DJ," read the headlines. The man of Dotty's dreams turns into something of a nightmare.
Meeting the tall, dark, handsome foreigner at her new job in the casino, Dotty thinks all her Christmases have come at once. Instead, she discovers a trail of lies and deceit, to say nothing of a suspicious package.
Was Dotty the last one to see him alive? Did the police suspect she was involved?
With the help of her friends, Dotty sets out to unravel the mystery around the tragic murder.
She should never have ignored the warning given by the mystery woman.

Grab your copy now through Amazon.  mybook.to/dotdice    
Available as an ebook or paperback.