The Dotty Drinkwater Mystery series Book 4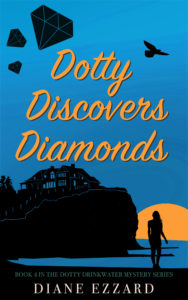 Joy and happiness turn to panic and despair when a body is discovered at a lavish birthday party.
Can Dotty unravel the trail of lies and deceit and find out the killer's identity?
Cousin Gillian has invited Dotty and her friends to her 40th birthday bash. The girls are all excited about attending the lavish affair until Gillian's expensive diamonds go missing. Other worrying incidents occur and events turn even more sinister when a body is discovered under suspicious circumstances.
Dotty begins to unravel some shocking revelations. The more she digs, the more she uncovers a web of lies. Can she discover the truth before it's too late?
This is Book 4 in the Dotty Drinkwater Mystery series but can be read as a standalone.
Another fun cozy mystery to whet your appetite with its recipe of red herrings and twists and turns.
Available through Amazon. It is available as an ebook or paperback. Grab your copy here mybook.to/dotdisdia