Dotty Deals with a Dilemma is Book 5 in the Dotty Drinkwater Mystery Series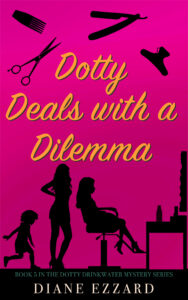 Things don't go according to plan for Dotty when she starts a new job working at the hair and beauty salon. There is one disaster after another.
Things go downhill fast when Dotty's boss, Sasha and her son, Watson disappear while taking Dotty's dog for a walk.
When a ransom demand comes through, things turn more sinister. Then the man suspected of kidnapping them is found murdered.
Can Dotty get to the truth before it's too late?
Join Dotty and her friends as they try to unravel another great madcap cozy mystery.
This is book 5 in the Dotty Drinkwater Mystery series but can be read as a standalone.
Grab your copy through Amazon here – mybook.to/dottydis
It is available as an ebook or paperback.