Diane Ezzard writes emotionally charged mystery books about ordinary people dealing with everyday situations until something goes badly wrong. The Sophie Brown Mystery series was her first collection of novels. They tell the story of Sophie who works as a counsellor helping others whilst getting embroiled with crime and intrigue. The six-book series plus a novella are a mix of domestic noir, psychological thrillers along with tales of gangsters and the underworld. If you enjoy something dark and gritty with twists and turns and unexpected endings, you'll enjoy this selection. They run chronologically from the novella through to book 6 but can all be read as standalones. Enjoy!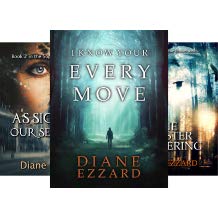 The Sophie Brown Mystery Series –
  My Dark Decline – prequel     mybook.to/mdd
 One woman's journey from oblivion to recovery
I Know Your Every Move – Book 1   mybook.to/ikyem  
A sinister phone call, an unknown visitor — is Sophie being followed?
 As Sick As Our Secrets – Book 2   mybook.to/asaos
 Secrets and lies are rife in the dark world of gangsters and criminals.
 The Sinister Gathering – Book 3    mybook.to/singat
 Sophie went on a retreat hoping to find peace, instead, she found the body of a woman she had just met
 Resentments and Revenge – Book 4    mybook.to/resandrev
 A murdered young woman, a missing schoolboy, are they connected?
 A Life Lost – Book 5     mybook.to/allost
 She lost her memory and then her life.
 The Killing Cult – Book 6   mybook.to/tsg
 Sophie makes a horrific discovery when she stumbles on a deadly cult.