My Dark Decline 
One woman's journey from oblivion to recovery. A Sophie Brown novella 
A troubled relationship, a damaged past and a bottle of wine mixed together make a volatile cocktail for Sophie.
Her journal documents the destructive descent into the grips of alcohol addiction.
Sophie Brown likes to work hard and play hard. Trapped in a relationship she can't escape from, alcohol becomes her best friend. Unable to accept she has a problem, she becomes increasingly dependent on booze. Full of remorse and afraid of her own behaviour, Sophie finally agrees to accept help and enters rehab, where the road to recovery begins.
Sometimes harrowing, sometimes poignant, this funny yet sad novel shows you a real glimpse into what happens when the life of a promising, talented young woman spirals out of control.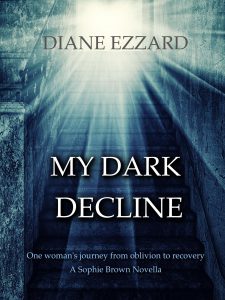 Available FREE  through  Amazon. Here is the link to grab your copy – mybook.to/mdd
January
Happy New Year, Diary! I'm not making any New Year's resolutions this year as I never keep to them. It would be nice to have less drama in my life so that's what I'm aiming for ­­– peace and harmony. I went to Mark's party last night. Kyle didn't want to come. No surprise there. He never does. We started off at the Railway in Ramsbottom. Rammy is always good for doing pub crawls because everything is so close together in the village. When I arrived, most of the guys from work were already there. You know the gang I mean ­­– the drinking crowd, the ones I hang out with on a Friday night. They go wild after a few drinks so I fit in well with them.
We downed a few shots. I was trying to pace myself. I didn't want to get too drunk too soon, so I went on to white wine and soda. I wish I wasn't such a lush. I wanted to stay where we were but I was outnumbered.
"Why can't we stay here, guys?" I whined.
"There's karaoke on up there," Joe said.
"But we were enjoying ourselves." My shoulders drooped, and I lowered my head.
"Well, stay if you want but we're all moving on."
"But it takes up too much valuable drinking time if we keep changing pubs."
"Oh, come on Sophie. I'll give you a piggyback." I shook my head but climbed on Joe's back and we jogged up the hill.
We moved on to the Grants. The sounds of a toneless alto voice singing "Sweet Caroline" upset my eardrums as the door opened, and the noise drifted out. The guys joined in the singing. I'm normally full of life but I was still sulking at having to move. Matt and Luke did a turn. They were terrible. It cheered me up no end. My sides were splitting from laughing that much. I don't think I've heard a less harmonious rendition of "Staying Alive" before; even Vinnie Jones could have sung it better. It was about eleven o'clock by the time we stumbled out to go to Mark's birthday bash.
I spent most of the night in the kitchen – my favourite place at parties. I had a dance with Charlotte and a few of the girls. Dancing doesn't do it for me. It takes up more unnecessary drinking time. My mood continued to improve after some prosecco. Mark's mates were larking around, so I joined in and got everyone doing wheelbarrow racing in the lounge. His living room is twice the size of mine. By the time we'd moved the beige upholstered suite and his striped two-seater out of the way, the room was the size of a football pitch.
I'd love to live in a place like Mark's. It's super cool, done out in creams and beiges ­– not the sort of place you'd want to spill your red wine on the carpet. I kept to white. I've learnt my lesson from mixing my drinks as I always suffer the next day. In his hallway was a sweeping staircase. The winding approach to the upper floor reminded me of something out of a Hollywood movie. I ended up seeing more of it than I should have. After a few drinks, I often got loud and obnoxious, apparently. I was only trying to joke around but my behaviour sometimes backfires on me and comes out as insulting. Anyway, Joe took offence to something I said, and he chased me upstairs. Then he and Mark picked me up and took hold of my feet and put me over the bannister.
They were dangling me over the rail and swinging me about. If they'd have let go, it would have been curtains for me. I was screaming. Everyone came out to see what the commotion was. They all found it very amusing. When the lads finished with me and pulled me back, the room was spinning around so I had to rush to the bathroom to spew up. It wasn't a pretty sight, and I wasn't impressed. I could have ruined the lovely beige woollen shag pile carpet and it wouldn't have been my fault.
I don't know what time I got a taxi home, but it was a good job Charlotte shared the fare with me.
She sent me a text this morning, "You had a skinful last night. I had to tell the taxi driver your address. You couldn't remember it, lol." Thank goodness for the "lol." I didn't want to be in her bad books.
"Yeah, it was a good night," I replied.
"You were the star, as always."
"Thanks, I've got the mother of all hangovers." I didn't dare ask her what she meant about being the star although I must have looked like a sort of star with my arms out dangling upside-down in mid-air.  My stomach did its usual round of somersaults when I woke up. What was that I said about mixing my drinks? I stayed in bed most of the day. Kyle wasn't too impressed, but I felt too ill to surface from the bedroom.
When I got up at tea time, Kyle wasn't speaking to me so I ignored him. I fancied another drink, you know, hair of the dog. I thought I would go and fill the car up with petrol to save time in the morning. I don't think Kyle minds what I do. He is so wrapped up in his geeky computer stuff he doesn't have time for me anymore.
Before I went to the petrol station, I called at the off-licence. I bought some wine. I thought we could have it with the takeaway I picked up. Kyle had cut down on his drinking so I hoped to have it all for myself. I don't like sharing. The half bottle of vodka was for me. After I filled the car up, I drove to a remote country lane close to home. Few people went down there. I knew the spot well because I go that way jogging sometimes.
I don't like to drink and drive but I had no alternative. If Kyle saw how much alcohol I was bringing home, he would have a go at me. It was better to drink some of it in secret. I pulled up in the car and turned the CD on. It was a love album compilation. I listened to Paloma Faith singing "Only Love Can Hurt Like This" and the tears flowed. As I necked down the neat vodka, I shuddered and wiped my face. The love had long since died between me and Kyle.
This relationship is killing me.  I want out, but I know it won't happen. A tendril of hair fell on my face. My eyes moistened. I licked the salty tears. How had I got myself into this mess? Why did Kyle want to stay with me? We'd grown apart. We led separate lives. I could never leave him because I couldn't live with myself if he tried another suicide attempt.
I glugged the vodka. I couldn't stay out too long because there would be questions so I drank the bottle as quickly as I could. I was only a few hundred yards from home. Any police officers would be out catching real criminals at this time of night, so I should get home without getting caught. I made it home safely. Kyle threw me a look of disdain when he saw the wine bottle. I chuckled to myself. He didn't know the half of it.
Later, I had a nice surprise when I found some brandy hidden in the wardrobe in a shoe box. I'm not a brandy drinker but I heard it was good for settling an upset stomach. Alcohol is the answer for dealing with any eventuality, don't you agree? I use it to help me sleep, to help me relax, to get me in the mood for a night out, to take away the pain of my situation.
Sorry, Diary, I can't write anymore because I'm going cross-eyed.