The Sinister Gathering (Book 3 in the Sophie Brown series) is coming out next month and will be available from Amazon from October 3rd at a discount for a limited period.
Be sure to grab your copy.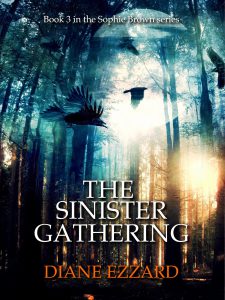 Sophie attends a well-being retreat hoping to find herself, instead, she finds a dead body.
Sophie goes on a retreat in rural Scotland, hoping to escape life and get in touch with her inner self.
Peace and harmony are advertised but what she discovers is anything but that.
As she gets to know the strange bunch of women staying at Glenloch Hall, she becomes more disturbed as time goes on. A nasty note, accusations fly, disharmony abounds.
She should never have entered that fateful property.
Exert from the book :-
                                                                                                       Prologue
She darts into the woods. Branches link together like limbs urging her not to enter. The forest is black, but she must go in there. A breeze stirs the leaves. The back of her neck pricks. The path forks. Which way to go? A fox crosses in front of her, breaking off a twig from a low-hanging tree. As the trail curves away, she has a choice to make. She runs deeper into the darkness.
Her breathing is rapid. She does not stop to look over her shoulder. Her arms thrash at the twigs and bushes. She runs. She trips. An unseen log. An overhanging branch. She steadies herself. The rain is relentless. Hair is plastered to her face. Sweeping strands aside, she murmurs words of undecipherable distress. She ignores the whistling wind and looks from left to right.
A moonless night; the darkness as terrifying as her thoughts. She can taste the blood. The pounding of the rain against the foliage adds to her sense of foreboding. Twigs crunch underfoot mingling with the sodden path.
Her mind fills with terrifying thoughts. Gross images flash across her memory. She stumbles over some ivy entwined through the grass, hidden from view. She can't steady herself this time and crashes into a tree. Pain pounds through her shoulder. A clap of thunder roars through the air.
Leaning against the trunk, she rubs her shoulder and winces. Ashe shudders with the intensity of the pain. The lightning highlights her muddy clothes.
Another flash of lightning brightens up the sky. A flicker of movement enters her periphery. She moves her head. Catching her breath from the knot in her stomach, she stumbles forward. She brushes tiny leaves off her shoulder and pushes forward.
The boom rolls across the meadow announcing its superiority. The boughs of the trees sway in the strengthening gust, surrendering their leaves without a fight. A streak of silver splits the sky. Fired up with adrenaline, the rain pelts against her skin like bullets. The wind howls like a wolf. Another crash of thunder and the trees shake in unison, the warning too late. Lightning comes again. A brilliant shock of white in the black sky, forking silently to the unsuspecting ground. She continues at speed. There is no shelter from the harsh surroundings.
Her journey continues as she sets off further into the unforgiving forest. She flinches as she runs. Breathing rapidly, her eyes dart around. A swish here and a branch snapping there. The sudden noises make her jump. She is not alone.
With each step, a jarring pain from her shoulder shoots through her body. She slips on wet leaves and reaches out holding onto a branch.
Her breathing is shallow. Mud smears her face. Her hair is matted. Her energy levels are low. The torrential conditions have depleted her spirit. She stops to catch her breath. Her limbs are exhausted. Resigned to her fate, she closes her eyes.
Panic consumes her. Her stomach tightens as she prays. Is it time for me to meet my Maker? An arm pushes forward. She stops dead. Her head droops backwards. She screams. Her body freezes, numbness taking over as shadows loom overhead. She doesn't need to look up. A wave of nausea attacks her as she glances around. A sharp silver blade flashes before her eyes.
"I'm sorry," she screams.
Her words are lost against the cruel elements. She screams again, acknowledging her fate. Her body jerks and the shiny metal pierces her skin and sinks into her flesh. She cries out, desperate guttural sounds.
Thick crimson blood flows out of the wound in her neck as she sinks to her knees convulsing and trembling like a rabid dog. She calls out, but it is too late for pleas. Her sounds are ignored. The blade sinks into her neck. Blood trickles onto the ground, intermingled with mud, turning the puddles a deep red. Her body collapses to the ground. She is motionless.